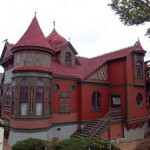 Sherman Heights: Latest Update
The "Villa" Montezuma is one of San Diego's greatest historic resources. It is a unique residence spawned in 1887 from the ideas of the eccentric author, world traveler, spiritualist, and musician, Jesse Shepard; his full name was Benjamin Henry Jesse Francis Shepard (nom-de-plume, Francis Grierson).    He was given the property and money to entice him to permanently establish his residency and perform concerts in San Diego.  Jesse was considered to a very unconventional musician, whose piano improvisations and uncanny vocal range was never captured on paper or recorded because they were strictly spontaneous moments.
It is the only remaining historic structure ever constructed for Jesse Shepard which is a testament to his ideas and personality.  It stands today as an exciting example of the architectural potential in the Sherman Heights community and how its supporters have been steadfast in their resolve to save this monumental piece of San Diego's history.
New Book Release
La Vie et Les Hommes ( Life and Men)Purchase Here
Shepard played music to inspire the souls of others, and to bring them pleasure. He began to turn toward writing in 1882 when he found that music was no longer a suitable form of communication for him to express his true feelings. He first published a series of lectures he had presented in 1880 in London., but his real exposure came when he published an "opuscule(small literary work) of aphorisms and essays" in French.  He mastered the French language to such a degree that his books, La Revolte Idealiste'( the Ideal Revolt) and La Vie et Les Hommes,(Life and Men) with their delicate, incisive composition, astounded French literateurs.
La Vie et Les Hommes is a brief insight into the life of an eccentric pianist, and writer Francis Grierson and how his knowledge developed into an expression of his philosophical and intellectual views. It is a written testament of his background as a notable craftsman and writer who utilized the aphorism, which was an easy and simple art of expressing and extraordinary opinion. He believed that those geniuses who studied the least possessed certain divination and that which strengthens the intellect kills fantasy.
Our communities are the heart of the sustainable preservation movement.  Read more.   This is observed all over the country in programs created in our neighborhoods and main street redevelopment.